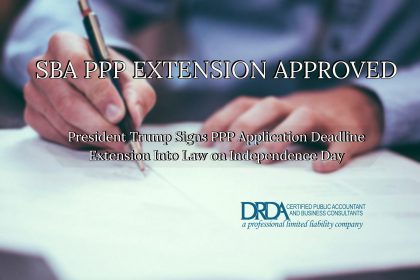 Small business owners were given an extra reason to celebrate July 4th, as President Trump signed into law an extension of the SBA's Payment Protection Program into law. Small business owners now have until August 8th to apply for a small business loan to meet employee payroll, rent, utilities, and other expenses. The original deadline to apply for the PPP loan assistance was this past Tuesday, June 30th.

With over $130 Billion left in funds from the approximate $660 Billion approved for small businesses, Congress would have had to reallocate the funds elsewhere had the original application deadline not been extended. Provided small business utilize 60% of the funds to cover employee's payroll, the loans can be forgiven, essentially becoming a grant.

When Congress reconvenes on July 20th following a two week recess, it must then decide how to allocate the remaining budget before the new filing extension ends on August 8th. The new PPP deadline extension also grants Congress time to draft another, more refined economic relief package aimed at assisting businesses impacted the hardest by the economic crisis as a result of the Coronavirus Pandemic .
Additional Information:
Sara Hansen, Forbes Magazine : https://www.forbes.com/sites/sarahhansen/2020/07/04/trump-signs-ppp-extension-bill-giving-small-businesses-another-5-weeks/#14e5239e59bf
Matthew Schwartz, NPR: https://www.npr.org/2020/07/04/887322386/trump-signs-small-business-loan-program-extension
See above.
https://www.washingtonpost.com/us-policy/2020/07/06/congress-departed-two-week-recess-without-addressing-coronavirus-spikes-economic-strains/
Sarah Westwood and Phil Mattingly, CNN Politics: https://www.cnn.com/2020/07/04/politics/trump-ppp-extension/index.html