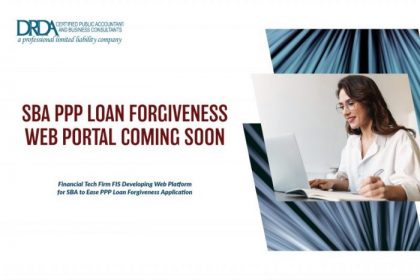 With the deadline for applying for a Small Business Administration (SBA)'s Payment Protection Program (PPP) extended, additional businesses are taking advantage of applying for a PPP business loan. Once business have utilized the funds to pay employees and company expenses, borrowers can apply for either loan forgiveness, or if not all the funds were utilized, begin repayment of the remaining portion. To simplify repayment, the Small Business Administration (SBA), in conjunction with the U.S. Treasury Department, plans to release a new online portal to simplify the PPP. FIS (Fidelity National Information Services), a provider of financial technology services to business and communities world-wide, is developing the online. The SBA aims to have the web portal available in August.
Available to all businesses and lenders, the portal will provide an easier method for executing the PPP loan forgiveness procedure from start (application filing) to finish (approval). Financial institutions can set up the FIS Portal quickly, with minimal time consumption. Once setup, lenders can enter data pertaining to borrowers and their corresponding loans, so that pre-filled applications can be provided to borrowers for quick completion and submission. Required documentation proving funds used to cover mortgage payment, utilities, required amount to payroll and other expenses, can be uploaded digitally to the portal as well.
The FIS Portal determines the loan amount that will be forgiven based on the information provided. The results are presented to the lender for review and/ or approval, then to the borrower (and back to lender) for e-signature (electronic signature). Once the application is processed completely, the Portal submits the documents to the SBA for confirmation.
"As a critical infrastructure provider, FIS is focused on making it as easy as possible for small businesses and merchants to complete the loan forgiveness process and help them get back to business as soon as possible," said Rob Lee, head of Global Core Banking and Channels, FIS. "Our new portal uses advanced automation technology to handle the entire process, reducing the time and complexity for businesses in getting forgiveness of the essential loans that are critical to their business."
FIS Real-Time Lending previously helped expedite the distribution of SBA PPP Loans through financial institutions to borrowers impacted by the Covid-19 crisis.
---