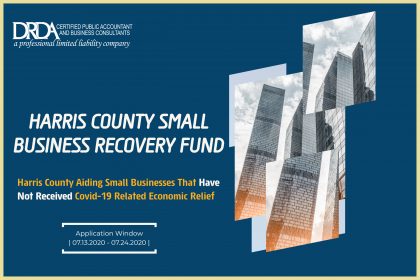 The Harris County Small Business Recovery Fund (SBFR), a $30 million grant program approved on June 30th to aid small businesses that have not received Covid-19 related economic relief, took effect yesterday, Monday, July 13, 2020 at 8am. The SBFR program will run for ten (10) business days. The last day to submit applications will be Friday, July 24, 2020 at 3:30pm.
Funded through Harris County, the SBFR program is designed to help small business owners remain open as Texas continues to fight the coronavirus crisis. Businesses that meet certain criteria will be awarded grants up to $25,000 to assist covering expenses including Payroll, rent, accounts payable, utilities and other operating costs.
"The impact of this crisis on small businesses has been devastating. We can't afford to lose a source of jobs, innovation and the enterprising spirit our region is known for," Harris County Judge Lina Hidalgo said. "These grants will help business owners stay afloat as Harris County continues to fight the COVID-19 crisis."
Eligible businesses that qualify for the Harris County SBRF grants include (but are not limited to):
Sole Proprietorship
Partnerships
Self-Employed Individuals
Non-Profits
Independent Contractors
Organizations including gambling, residential builders, speculative real estate investors and sexually oriented businesses are not eligible to apply.
Eligible firms (for and non-profit) must meet the following requirements to qualify for financial relief funds:
Must have been operating for the entire 2019 calendar year;
Must have 30 or fewer employees;
Be in good standing with local, state, and federal governments with no outstanding tax obligations or liabilities;
Must be located within Harris County. Organizations located within the city of Houston are not eligible for the program unless they are located within Precinct One; and,
Must prove that the Covid-19 pandemic negatively impacted operations.
Qualifying businesses can apply for SBRF assistance online at www.harriscounty-sbrfund.org. Applicants that cannot apply online may call (713) 845-2476 for information on filing an application by mail or email.
In addition to the application, businesses must also include the following supporting documentation:
Business tax return for 2018 or 2019
Income and expenses for 3 months
Articles of incorporation, business license or DBA certificate
W-2 statement, pay stubs, or personal tax return.
Businesses approved for SBRF aid will receive 75% of the amount granted within 30 days from the date the program closes (July 22, 2020). To receive the remaining 25% of grant aid, businesses must show proof that it is still operating as of November 30th, 2020.
Organizations that have previously received Covid-19 aid through the SBA's Payroll Protection Program and other state or local finical relief are also eligible to apply for SBRF relief. However, businesses that have not yet received any assistance from Federal or Local assistance programs are receiving priority.