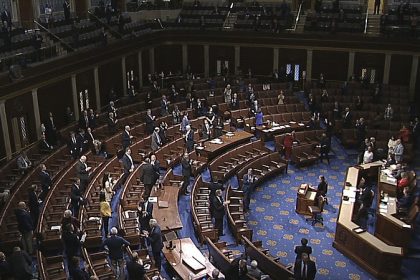 After meeting every day for more than a week, Nancy Pelosi (House Speaker, D-California), Chuck Schumer (Senate Minority Leader, D-New York), Steven Mnuchin (Treasury Secretary), and Mark Meadows (White House Chief of Staff) are trying to find a compromise between the
Democrats' $3 trillion proposal and the Republicans' $1 trillion package. While negotiations are still going on, the framework for the next stimulus package called the March to Common Ground has been released. The March to Common Ground includes proposals and key compromises from both parties. The Proposals are being led by Representative Josh Gottheimer (D-New Jersey) and Representative Tom Reed (R-New York) and are being supported by 50 lawmakers—25 Democrats and 25 Republicans.

THE MARCH TO COMMON GROUND

The United States Treasury has already claimed they would accept a $1.5 trillion deal, however the Democrats may have to make more compromises for the deal to go through. As of right now, all eyes are on the Democrats to see if there will be a successful compromise. The framework for the March to Common Ground includes:
$1,200 second stimulus checks and $500 per child and dependent adults
$450-$600 weekly unemployment benefits
$500 billion to state and local governments
$290 billion for Paycheck Protection Program and other small business programs
$100 billion for virus testing and tracing and public health
$25 billion for mortgage and rental assistance
$145 billion for schools and child care
$25 billion for broadband, agriculture, Postal Service and Census
$11 billion for WIC and SNAP assistance
$400 million for 2020 elections
Student loan forbearance through December 31, 2020
Worker and Liability Protections

PAYCHECK PROTECTION PROGRAM
The Paycheck Protection Program (PPP) was created to help small businesses during the COVID-19 pandemic. It is a loan program designed to provide a direct incentive for small businesses to keep their workers on the payroll to reduce unemployment. Most small businesses who took out a PPP loan earlier in the year have exhausted the resources, and for many, the company and their employees are hanging in the balance.
A major component of the March to Common Ground relief framework includes $290 billion for the PPP and other small business programs. $240 billion of this fund is allotted for the PPP which will allow small businesses to take out a second PPP loan and will allow for a simplified forgiveness process. In addition, $50 billion has been allotted for the Targeted Employee
Retention Tax Credit (ERTC).
ANOTHER DELAY TO THE BILL
On Tuesday, September 22, House of Representative leaders abruptly delayed plans for a floor vote on a stopgap funding measure that is needed to avoid a partial government shutdown. Even with the stopgap funding measure passed in the House, it still needs to be approved by the Senate and President Trump to ensure the government does not have a shutdown in eight days. Continual hiccups of this nature will slow down congressional leaders and their approval of the March to Common Ground as well as other bills.
Submitted by:
Kendra May